September blog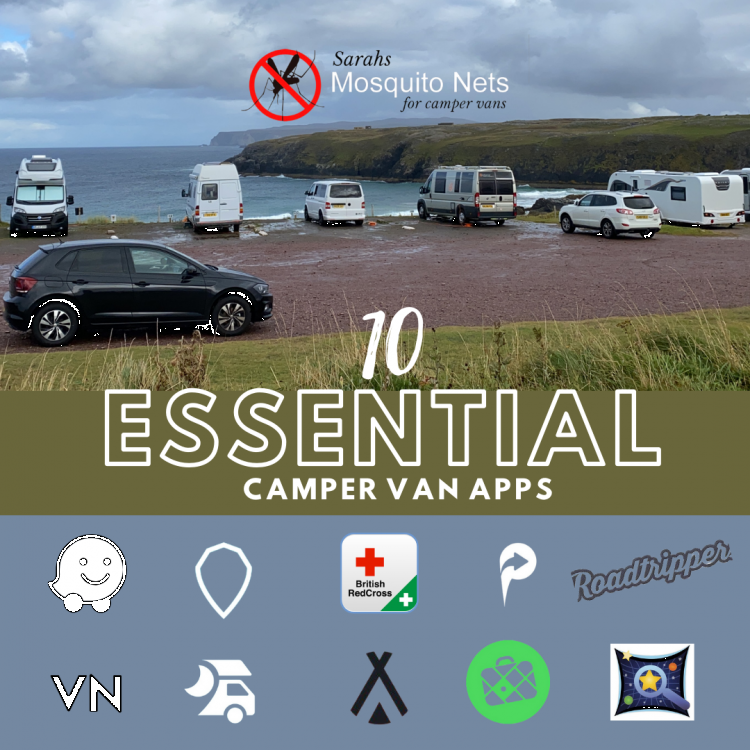 ​To help you make the most of your camping adventure, we've compiled a list of 10 of the best camping apps that will assist you in finding the perfect site, packing your gear efficiently, and making the most of your surroundings while enjoying the great outdoors.

1.Roadtrippers

Roadtrippers is a fantastic app for planning and discovering road trips.

With its extensive database of hidden gems, local attractions, and scenic points, you can create a customised itinerary that includes all the must-visit places along your route.

2.Park4night UK
This camping app is a really good option for all motorhome lovers and has been a lifesaver on all of our camper van adventures.

Park4night will help you a lot when you decide to stop somewhere that wasn't planned (even with organisation, it happens sometimes).

3.Campercontact
If you're traveling in Europe and you need some help to find some free or cheap parking spots, then this app is a really good one to have installed on your phone while on a road trip.

4.Van Secrets
Trying to find some wild and free spots? then this platform will tell you all the secret camping spots all around the world. Van Secrets will let you explore all of the hidden gems and those windy roads throughout your journey.


5.Waze
Getting lost, hitting a street with non-ending traffic, or finding a collision on the road, are probably some of the worst headaches for everyone, especially traveller on their well earned break!

Keeping your van on the right path (and probably on the best one) is easier when you've got Waze.


6. Parkme
Those who dare to explore the road with a van, know that even though it's the best feeling ever, one of the main frustrations is never knowing where to park a vehicle of that size.

With Parkme you'll never need to worry again about finding parking when you're arriving in a new town.

This app will show you available garages and street parking nearby or in any other location, you choose on the map, along with the cost for every option. Parkme will also inform you about how many spaces are left in the garage or on a specific street.

7. Maps.me

This app is a lifesaver for every traveller that likes to hit the road, perhaps because more than any other device, maps are the camper's constant assistant.

Maps.me has a really significant and important tool – it works offline! , so even if you are in the middle of nowhere, you don't need to worry about which way you have to turn.

8. First Aid

It's always good to be prepared. A first aid app isn't necessarily what you would think you need until you end up in a sticky situation.

The First Aid app from The British Red Cross, helps you find clear steps on what to do in case of health emergencies or accidents while camping.

The app also helps you learn about first aid skills with videos, interactive quizzes and simple step-by-step advice and tips on how to prepare for emergencies, from severe winter weather to road traffic accidents.

9. Tourlina
The perfect app for all the solo women travellers who love taking journeys on their own, can now connect with like-minded women across the world through a women-only social networking app.

Tourlina is an app with verified travel members, allowing you to connect with adventure-seekers with similar interests.

10. Sky Map

You might have, at least once, looked up into the sky and wondered "what am I looking at? is it a star, is it a planet?" but with Sky Map in your palm, you would skip right through this guessing game and marvel at the beauty of the night skies.


By utilising these useful apps, you can ensure a well-planned and unforgettable camping adventure. So, pack your gear, hit the road, and make the most of the great outdoors with these handy tools.

Happy camping and capturing those "Instagram-worthy" memories!
Top